Molecular Orbitals (eBook Primer)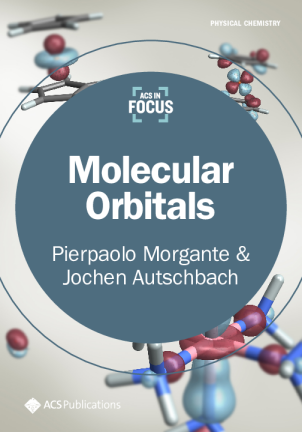 Molecular Orbitals, created jointly by postdoctoral researcher Pierpaolo Morgante and professor Jochen Autschbach, and published by American Chemical Society (ACS) Publications, Washington, DC (2023), is a primer on the topic of Molecular Orbitals (MOs): What are MOs, how can you calculate them, how can you visualize MOs and the associated atomic orbitals (AOs), how are MO concepts used in chemistry, and how do you avoid common misconceptions about MOs?
 
Molecular Orbitals is part of the ACS In Focus digital primers series (see also the In-Focus Google Play page). The In-Focus series is aimed at readers of all levels who want to acquire a fundamental understanding of core topics and techniques in chemistry and adjacent fields. In this spirit, we created a primer about MO theory and its applications that will go a long way to help you understand this important concept in chemistry.
 
This primer can be read in about 7–8 hours. It treats the topic rigorously, but derivations are skipped in favor of outlining how you get from one level of approximation to the next. Detailed derivations of MO-theoretical concepts and many additional aspects of electronic structure theory are covered in Jochen's textbook Quantum Theory for Chemical Applications.
Molecular Orbitals comes with 50+ high-quality figures illustrating the concepts that are presented. For many of the illustrations, we provide interactive versions on this page for download. Details are provided below.
Please scroll down for a selection of free supplementary material for the eBook.
 
Supplementary Material for
Molecular Orbitals
Below is a list of notebooks in the Wolfram computational language (aka Mathematica syntax) for download. We used Mathematica to create most of the function plots and molecular graphics shown in the ebook. The list of notebooks is ordered by chapter, with self-explanatory file names.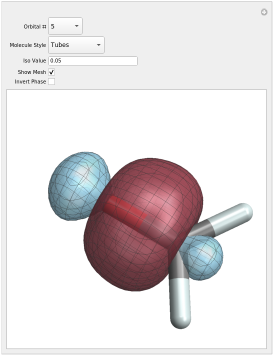 The notebooks (file extension .nb) can be viewed with Mathematica, and with the free Wolfram Player. Mathematica is not free software, but many colleges have campus licenses, which means that students and instructors can use it without having to pay for an individual license. The Wolfram Player is free for download, runs on Windows, Mac, and Linux operating systems, and it will faithfully reproduce the visualizations and almost all of their interactive features. The main drawback of using the Player is that you won't be able to modify the underlying code easily.
 

Most of the files contain embedded volume data for several orbitals. Therefore, the file size is typically several 10 MByte. Also, please be patient when the isosurface plots get rendered in the software. If prompted, when you open one of the files, please enable dynamic content.
 

NOTE: Version 13.1 of Mathematica has a known bug in the rendering of molecules with isosurfaces. Please use version 12.x, 13.0, or versions more recent than 13.1. The same applies to the Player versions.
 

Chapter 4: Function Plots in 1d, 2d and 3d (11 MB)
 

Chapter 4: H2CO Canonical Orbitals (47 MB)
 

Chapter 5: H2CO Localized Orbitals Boys Criterion (49 MB)
 

Chapter 5: H2CO Localized Orbitals PM Criterion (47 MB)
 

Chapter 5: Benzene Canonical Orbitals (51 MB)
 

Chapter 5: Benzene Localized Orbitals PM Criterion (68 MB)
 

Chapter 5: Hexatriene Canonical Orbitals (79 MB)
 

Chapter 5: Hexatriene Localized Orbitals PM Criterion (75 MB)
 

Chapter 7: Ethene Canonical Orbitals (13 MB)
 

Chapter 7: Cyclobutane Canonical Orbitals (36 MB)
 

Chapter 7: Butadiene Canonical Orbitals (41 MB)
 

Chapter 7: Cyclohexene Canonical Orbitals (65 MB)
 

Chapter 7: Hexaaminecobalt(III) Canonical Orbitals (112 MB)
 

Chapter 7: Cobalt Pincer Complex Canonical Orbitals (81 MB)
 

Chapter 7: Ferrocene Canonical Orbitals (75 MB)
 

Chapter 7: Pt-Helicene (neutral form) HOMO and LUMO (117 MB)
 

Chapter 7: Pt-Helicene (protonated form) HOMO and LUMO (148 MB)
 

© 2023 J. Autschbach.